Roberta V. Kruppa, 81 August 12, 2016
Details

Created: Saturday, 27 August 2016 08:28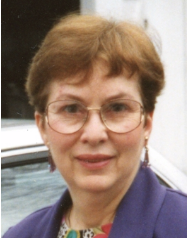 Roberta V. Kruppa, 81, beloved wife of Paul F. Kruppa Sr., passed away on August 12, 2016 after a 38 year courageous battle with Parkinson's Disease. A loving wife, mother and grandmother, Roberta died peacefully at her home surrounded by her family. She brought much joy, love and laughter to her family and was an inspiration to those around her.
Roberta was born in Torrington on August 3, 1935, the daughter of Ethel and Roger Valli. She lived her entire life at the family home on Oak Avenue. She attended local schools and graduated from Torrington High School in 1954. Roberta and Paul were married on November 30, 1957 and together they raised four children who were lucky to have such a loving and happy couple as role models.
After their children were grown, Roberta began a career at First Federal and retired from Webster Bank after 20 years of service.
In addition to her husband Paul, she is survived by her children Paul Kruppa and his wife Anne; Roger Kruppa and his wife Joy; Gail Kruppa and her fiancé Mark McEachern; and three grandchildren, Dylan, Damon and Mia as well as nieces and a nephew. Roberta was predeceased by her daughter Donna Gioiele and her sister, Vivienne Vanoni.
The Kruppa family would like to thank the many friends and family who frequently visited Roberta. The family would also like to extend its gratitude to Roberta's aide, Ashley, as well as Tammy Arel of Foothills VNA and Hospice.
Private funeral arrangements have been entrusted to Cook Funeral Home.
Memorial contributions may be sent to Torrington Area Parkinson's Support Group, (TAPSG), P. O. Box 521, Torrington, CT 06790.